Woke up early for some reason so I headed into Tokyo. Enjoy these photos of some wierd, fucked up places:
This building looks like a biomechanical H.R. Geiger creation. It's smack dab in the middle of a normal part of town. Kind of off on a side road.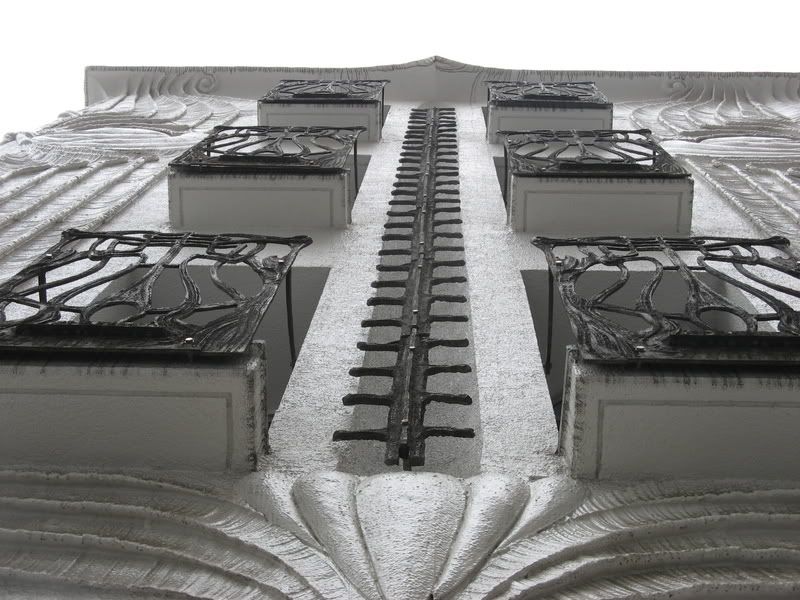 The lobby is awesome!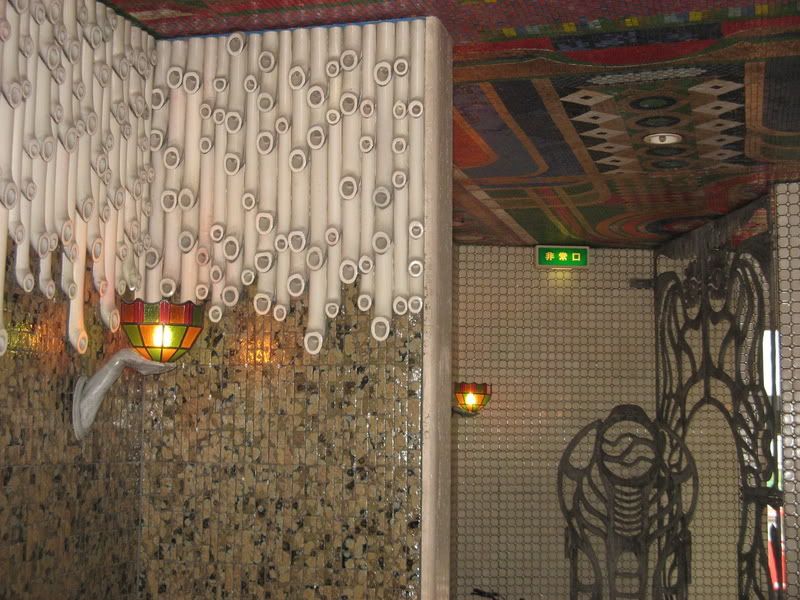 All the lights had hands holding them and there were tubes going up the walls. Stained glass finished the effect. Awesome. Of course, I have a tattoo that is a replica of a Gieger piece, so I'm a little biased!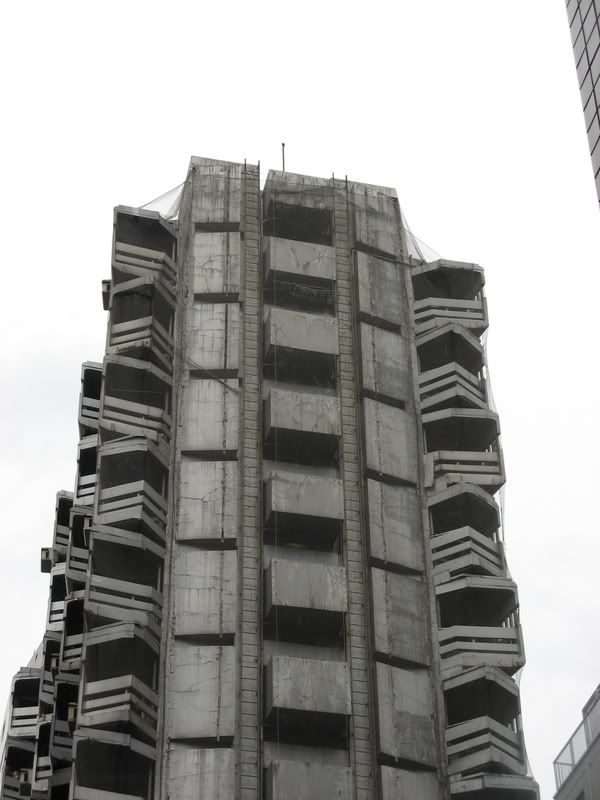 Check out this fucked up, depressing building!
It's like out of
1984
or
Brazil
or
Soylent Green
or something. Maybe this is a prototype for a bleak, bleak future. It looked condemned, but there were people living there. Check out the roof!
Don't ask me about hostess clubs. That shit is researchable online, and off limit to foreigners so I'd never know anyways. But one thing is they are pretty discreet. Touts work the streets, but the girls are tucked away inside. But these are
host
clubs! There's a fucking block long advertisement showing which guys you can hang out with. They all have the same androgenous looking style of hair and dress, but there are a couple random ones. One was a fat goofy looking guy. There was even a "metal" looking dude. Rock on... sorta.
Karaoke place.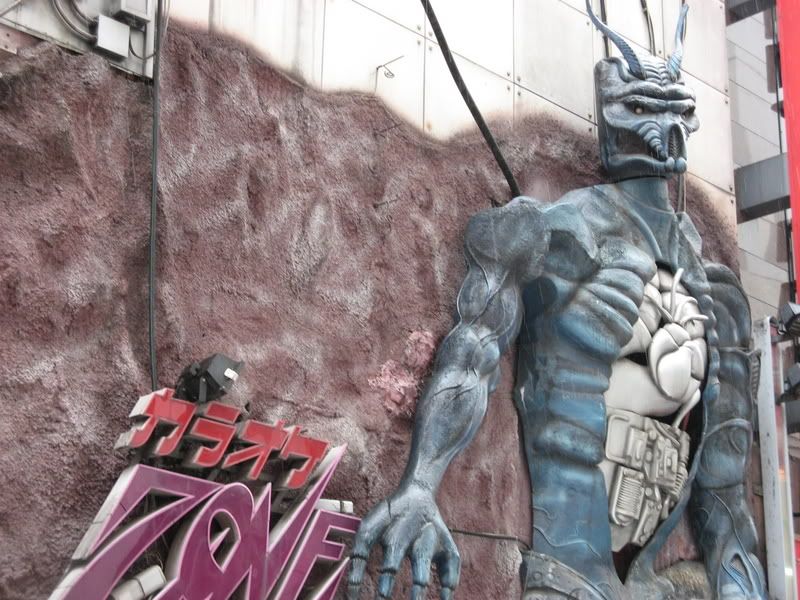 Korean barbecue restaraunt. A giant pig cooking pork meat. But look at him closely, he's go some crazy evil goggles on.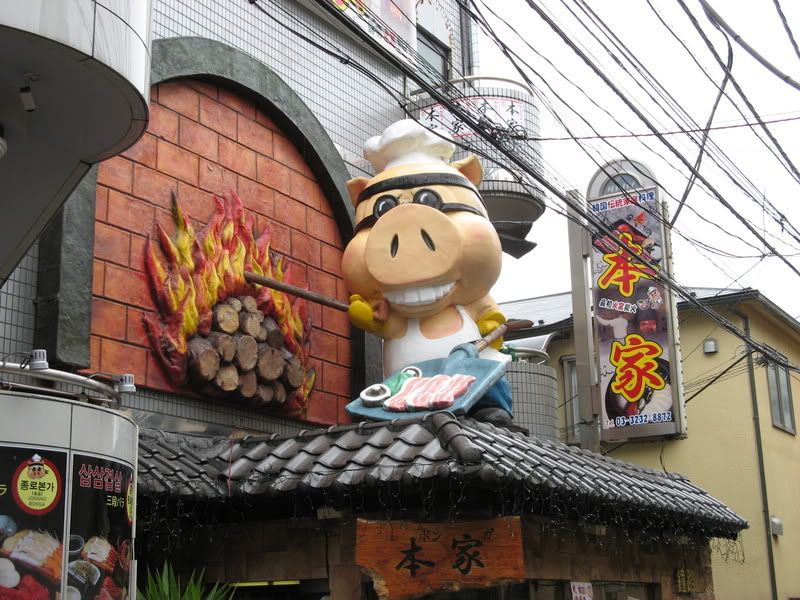 I ate at this place. It was some damn tasty Korean food a little north of Shinjuku. The logo is a potato I guess, but it looks like a big ol' nut sack to me...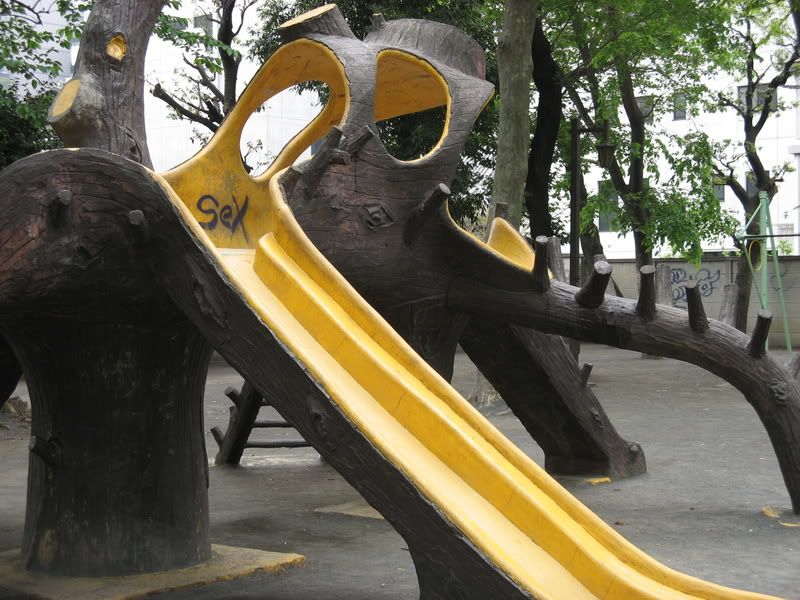 Random atsy looking playground. Some creative tagger just wrote "sex" on it. Good to see the graphitti scene in Tokyo is going strong.
After my photo explorations I saw Spiderman 3 in Roppongi.
I had some time to kill, so I went to Tokyo Midtown. I went on openning day a few weeks ago, and ran out after 2 seconds. It was packed! So this time was a little better. Better in the sense that there weren't thousands of people. Other than that, this place is still whack. How can I describe it...
If you can't decide whether the store in front of you is selling chocolate truffles or laser guns... you're at Tokyo Midtown.
If you just waited for 45 minutes in line to look at glassware and bowls... you're at the right place.
If you just dropped $800 on a Puma brand sweatshirt... yeah, you got it.
If maybe, just maybe, eerie blood red chandeliers with white pocka dots covering an entire store doesn't make you want to buy pet food... bingo.
It's kinda a sensory overload. But since shopping is the national sport of Japan, a place like this is pure candy. If you go there, look at the floor. It's all covered in little dents from high heels. 1/3 of Japanese women wear high heels year round. Trust me, I counted. I've seen high heels in the snow and on hiking trails in the mountains.