My best friend from America had planned to visit in March 2011. Disaster hit just before his trip (the March 2011 triple earthquake, tsunami, and subsequent nuclear accident), and all was cancelled. Well, the homie Dave made it out finally, and I tried to plan 10 days of random radness that would be entertaining for the both of us.
Day 1:
Kanpai! My day was fairly booked with ramen tours, so we stayed local and tried to check out the fading cherry blossoms at Shinjuku Gyoen. Not to self, that park closes at like 4pm for some dumb reason.
Shinjuku is a good spot to wander, but I'm always surprised by the lack of daytime drinking spots. You can always just grab a bottle of sake at the
Isetan
in their massive basement food area.
Apparently, the brand new
NEWoMan
(!!!)building on top of Shinjuku Station has some places to chill.
Gotta go to work! Six bowls of bomb tsukemen at
Fuunji
!
Day 2:
Homie Dave is a big time video game nerd. How big? Does he spend his days playing Battlefield? Nope, he spends his days
making
Battlefield.
Enjoying the Japanese version of Cat Fancy?
We did the touristy Shibuya-Harajuku-Meiji walk. Nothing wrong with generic touristy stuff.
Kakigori was enjoyed. This spot had massive lines when they opened last year, in the neighborhood of 2 hours. Now you can just walk in. Good stuff. Definitely not worth a 2 hour wait.
Even after all these years, Meiji Shrine is a pretty sick place. An oasis in the middle of the concrete jungle.
We had some prayers for safe travel, followed by a beer at the new non-Mikkeller spot. I say non-Mikkeller, because this used to be the
Mikkeller
bar, then they dropped the Mikkeller name after some drama, and now they reopened, without any of that amazing Mikkeller beer.
Off to my go-to sushi spot. No matter where you go for sushi in Japan, as long as it is an
omakase
type place, you are going to be happy.
As I've been delving deeper and deeper in the sushi scene, this is one big point I've taken away. It's fun to check Michelin stars off your list, but as long as you have a couple great places, the foodie checklist isn't that important.
The new batch of
katsuo
was amazing.
I'm more of a winter sushi fan, but spring ain't bad.
The direct-to-hand uni is a crowd pleaser.
Day 3:
Head north! Homie Dave could take advantage of the
JR East train pass
. Basically, for $200 you get 5 days of travel. That is nuts. The 1-way trip to Akita alone was like $180. Foreigners living in Japan are ineligible. I've heard that you can kind of scam your way, but wasn't about to risk it.
Three hours on the bright red E6.
Train food. Fried pork sandwiches at 310 km/hr.
Our destination was 田沢湖, Lake Tazawa. I'd heard of an awesome hidden hot spring in the mountains, with a rustic, secluded inn. This had been on my list for about 6 or 7 years.
I forced homie Dave to walk around the lake with me. It was far, but there is something amazing about walking in the countryside. Not a lot to see, apart from the trees, water, and mountains.
But at least you can find some free roadside water. Neither of us got sick the entire trip, and I thank this magical forest water for it's healing effects.
After this we hitch-hiked the rest of the lake. Hitching in Japan is of questionable legality, but in the 4 or 5 times I've tried it, it was always a success.
Well, the onsen was pretty legit, though it's status as a secret onsen (the name has 秘 in it) was not the case at all. About 3/4 of the guests were from overseas.
They are part of the
日本の秘湯
(Japanese secret onsen) association. Yes, there is an official organization. For secrets.
Turns out that the average temperature of onsen in Japan, 42 degrees, is a bit hot. I looked into it, and most hotel spas keep their Jacuzzi at 38. Hommie Dave was having very little of the indoor bath, while the outdoor one was bearable. Sorry homie Dave!
For me, 42 or 43 and I'm good for hours.
Day 4:
Back in Tokyo for a Swallows game. Homie Dave was about to ditch me when I mentioned a baseball game, but the minute we stepped in it was all good. J-baseball is nuts.
Day 5:
Foooooood! I had to go teach English to high school girls, so Dave went off and walked around Akihabara for a few hours.
Then to
Florilege
, one of my 2 or 3 favorite fancy spots. If you like this sort of thing, French cuisine using a lot of innovation and local ingredients, paired with a solid wine list, Florilege is for you.
Course after course of the good stuff.
Pricey, but so is any food of this caliber.
Day 6:
I kind of forgot what we did during the day, but then we ended up at Den for dinner.
Everyone's favorite spot.
Doing it wrong!
Den ends up being most foodie's highlight restaurant. With good reason.
Day 7:
I didn't bring my camera, so here is a shot of us at the top of a mountain.
The plan was to hike from Okutama to Mitake, eat some soba on the mountaintop, then head down to the Sawanoi sake brewery for a tour and drinks.
I'd done this hike before, and it took me about 3-4 hours. As a group this time, it took more like 7 hours, and we got a late start, as someone missed their train. Someone
always
misses their train. Though the photo below looks like a beautiful spring day, most of the hike was spent in typhoon level winds and horizontal rain.
This is an amazing mountain in Tokyo to hike, but if you aren't down with a 10km uphill battle, start from Mitake Station, take the cable car, do a little hike, then come back down.
One of those hikes where I have a feeling that most people were miserable, but happy to have done it the next day.
Day 8:
More train nerding out.
This is the
Super View Odoriku
, an express train that goes from Tokyo Station down the Izu Peninsula. If you plan it, you can sit right in the front. And by plan it, I mean get up early exactly 1 month before your trip, go down to the nearest JR station, and reserve your seats.
I always ride my motorcycle down south, but I'm not about to ride 2-up on the bike with homie Dave!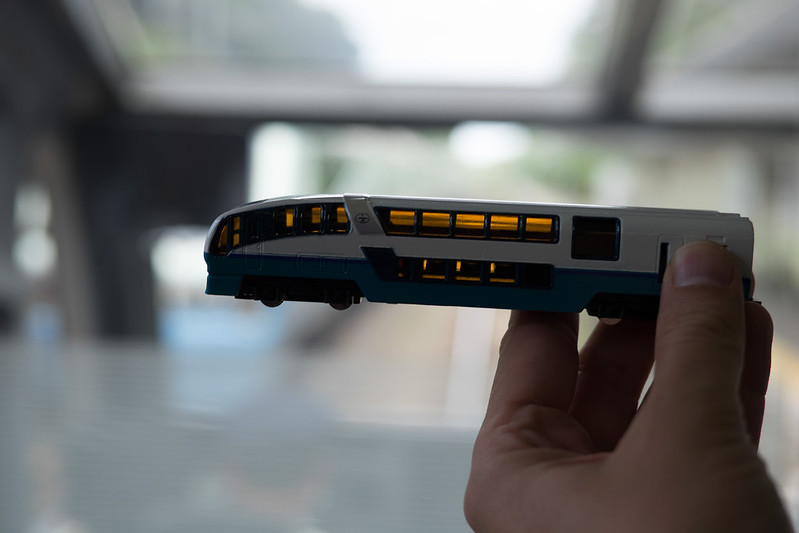 Izu is full of fun, if you count sitting around in hot springs fun.
Or going to the famous
Banana Alligator Park
fun.
And, yep, these hot springs were also 42 degrees. Sorry homie Dave!
Day 9:
Homie Dave wanted Japanese curry.
Kokoro (ー 心)
was just far enough from touristy Hakone-Yumoto station that there were no white folk. The ranking was high, and I felt very happy in my ability to use Japanese food sites to search out good stuff.
Mad tasty.
My first time to the Hakone Open Air museum. Neat place, though getting around Hakone using trains and cable cars and buses is slow and annoying. Like I've said, I'm always on a bike, and this tiny part of Japan is easy to navigate.
After the art, we stayed at the
Green Plaza Hakone
. I don't think I'd recommend this to anyone. It was very touristy, the food was weak, and there was nothing around the hotel. The reason I booked it was for the view. Mt. Fuji in all its glory.
Might be a good spot to stay with a family. There were screaming Chinese kids running around everywhere.
Day 10:
Back in Tokyo, another quick sushi lunch.
Manten Sushi
has probably the highest cost-performance of any sushi shop in Tokyo. For 3000 yen at lunch, or 5000 yen at dinner, you get a full-on course.
Then off to the marina. I've got a membership, so we rented a boat for a few hours to cruise around the harbor and Tokyo Bay. Yeah, you can pretty much pull up alongside Haneda and watch the planes land.
Mad fun.
The whole boating thing is a recent development in my life. I'll post more, as cruising around the canals and Tokyo Bay is amazing. Amazing, yet there is no one pleasure boating.
Day 11 and 12:
There were a couple more days, but I didn't take any pictures, so who knows what happened. Memory loss! I remember I made homie Dave come to some sort of local drinking party where no one spoke English.
For reference here is a shot of us almost exactly 10 years ago.
I had some weight / hair / teeth issues, but I'm better now.
Not a bad week and a half. I didn't take homie Dave to the Robot Restaurant, or jail-themed izakaya, or ninja village, because that is shit I have no interest in.
A couple things fell through / didn't happen:
I had a driving lesson booked at a drift racing circuit, but the teacher had to cancel.
Sake brewery tour. We missed the tour time.
I almost had a big ramen PR gig in Osaka. Would have been rad to go there for a night.
We were going to fly to Fukuoka for a day to hang out with geisha, but the Kumamoto earthquake put an end to that.