Tips about what to do and what to don't in Istanbul, Turkey!
Dos and don'ts!
Do
go to Istanbul, it is a neat place.
Ok, let's get right into it.
Do
hit up all the tourist spots. The city is easy to navigate, and a quick trip to the Grand Bazaar, cistern, Blue Mosque, and Hagia Sophia isn't as much of a painfully crowded schlep as other world famous cities. Speaking of the crowds . . .
. . . what did you expect?
Presenting the Hagia Sophia, as seen through construction bars.
Fuck generic shots of Jesus! I'm shooting modern metal!
To me, Istanbul's main draw is chillin. There are so many nice cafes and public spaces to just relax in. But balance is a key, so
do
do the guidebook stuff.
I was a bit underwhelmed by the Blue Mosque. To me, mosques are at their full beauty when they are functioning as, well, mosques. Sitting in a tranquil prayer room beats posing for a selfie anytime. Istanbul seems to have thousands of mosques, so if that is your thing, head to somewhere a bit less touristy.
Do
take a cruise along the Bosphorus River.
Don't
ride a boat that has no shade.
After riding this one, I saw about 100 other boats with nice canopies on the roof. It is a minor thing, but I would have enjoyed it more minus the sunburn.
What a gorgeous city.
You know you are a baller when the construction tent on your riverside mansion has an artist's rendition of your future pad. Baller!
Don't
go to the beach. Shit is weak.
Do
watch the World Cup.
See you in 2018.
Do
just kick it at rooftop cafes. I forgot the name of this one. Kozak or Konak or something like that. To get there go down the small alley near the tower thing, down another small alley, and into the nondescript building with a rickety elevator to the top. Good luck.
I want to be there now!
The Grand Bazaar. Sure, why not,
do
it.
If you know the value of stuff, maybe you could go in and get a bargain. I have no idea the price of gold and jewels, so I would never get more than a cheap trinket. I actually kind of hate haggling, so I didn't buy anything. Neat place to walk around, though.
You could always just buy some Turkish boner pills and be done.
Do
sneak into a sold-out Metallica concert.
Hunh?
Ok, food and drink time. Like I said, Istanbul is rad for chilling. There are quite a few excellent cafes.
Ara Cafe
is named after famed Istanbul photographer
Ara Guler
. His black and white street photography is all over the walls. Be sure you place your Leica on the table in front of you so that everyone knows you are a legit street photographer as well. Scoff at the people with their DSLRs.
They had the only Turkish coffee that I could stomach, probably because it was mixed with milk. Seriously,
don't
drink the traditional Turkish coffee. Can someone explain the appeal of chalky, unfiltered coffee to me?
Speaking of coffee,
Cup of Joy
is the most famous nerdy coffee spot in town. It is a bit out of the way in Bebek, but if you have the time, they make a great cup.
Though the Bebek Starbucks across the street has a much nicer riverside view.
Do
eat the sweets, I guess.
Karaköy Güllüoğlu
has the most celebrated baklava in town. Sure, it is great, but I was surprised by the prices. Snacks are mega cheap in Istanbul, and I thought I'd be grabbing squares of honeyed pastry ever couple of hours. Wrong, as even the no-name places were about a buck a bite.
Don't
eat Turkish ice cream.
Kind of dumb. Ah, but you know you want the photo, so go ahead.
For higher end, I hit up two places.
Sur Balik (horrible
website
!) sits on the Bosphorus and serves the Ferrari-driving, yacht-sailing, wine-guzzling elite with decent Mediterranean cuisine.
As is standard with Istanbul, you order a few plates of mezes, followed by some fish for the main.
Salted and lightly smoked bonito was fantastic.
While the main course was a bit basic. I'm spoiled in Japan, where a nice
shioyaki
fish is nothing.
Do
grab a balık-ekmek (fish sandwich) from the street. This, the best one I had, was on the north side of the Balik bridge. About $3, compared with $30 for the fancy fish plate the night before.
Do
go to
Meze by Lemon Tree
. Wow, this one was good. Apparently getting a reservation is tough, but if you go for one when they open you shouldn't have a problem.
Mezes are small plates to share. Meze by Lemon Tree puts modern twists on classics. Everything here was solid. You pick from about 15 different choices.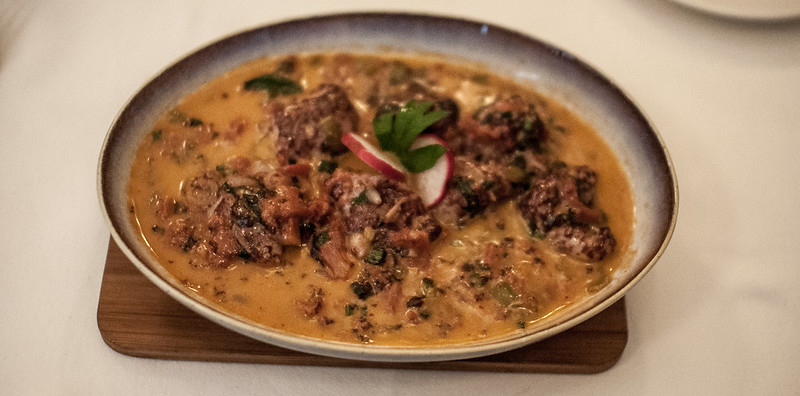 The course menu for 2 was quite affordable, though local wine could easily break your budget.
Do
art. As in any city, you should always make time for the local modern art museum. The i
stanbul Modern
has a new wing under construction that looks amazing.
So there you go, some
dos
and
don'ts
for your trip to Istanbul. Great place to chill.
Don't
worry too much about scams and hustles. The only scam I saw, and I saw it 3 times, was the shoe polish hustle. Shoe polish guy will walk in front of you and drop a brush - by accident - and when you pick it up he will thank you and motion for what you think is a free shine. Then, I guess, he tries to charge you a huge amount for you price-un-agreed-upon shoe shine.
Bro! I'm wearing suede Nike SBs, you can't shine these!
Anyways, 3 times they tried this on me. Be aware.
I leave you with some picture of feral cats, of which there are many in Istanbul.