Where to start...
In the words of my favorite comedian, Dave Attell, "I was drunk, or as I like to call it, time travelling."
Let me set the stage. We were gonna go out Saturday night. I was gonna wear the Batman costume. We were gonna go clubbing. A simple plan, as usual.
Then I found out about the Yamanote Halloween Train Party. An urban legend for years, it's a flash mob type thing where gaijin dressed up for the holiday take over a car on the Yamanote line in Tokyo. The Yamanote does circles around the city, you could stay on it all day if you wanted to. So the myth is that at 9pm you hop on the train in Shinjuku on car #10. Bring booze. Share booze.
9pm... I work until 8pm. It takes about 10 minutes to get home. 5-10 minutes to shower and get dressed. 10 minutes to get back to the station and on the train. 35 minutes to Ikebukuro. 16 minutes to Shinjuku. I rushed. Fate worked for me this night and I managed to catch the right tain, right car, and even met with Eric. Flippin sweet.
Here's a video on youtube of the fun. Look for Batman runing by, thats me:
So it was just some good old fun. Everyone was chanting and drinking and hopping between cars at each stop. I started drinking.
...Time Travel...
I remember posing for about 100 photos with random people. My outfit was pretty... stand outish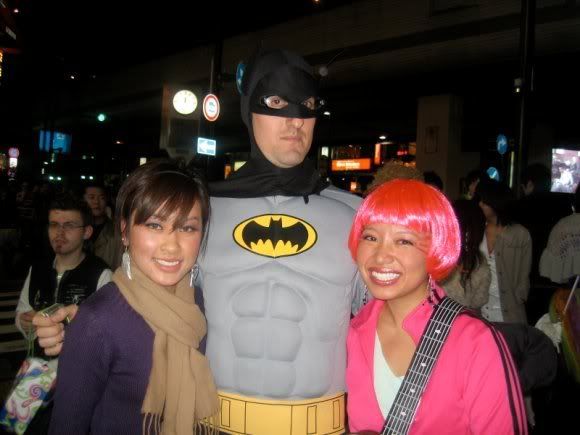 Yes, it was skin tight. Yes, my goods were very much noticeable. Or maybe lack of goods is a better term. It was cold dammit! I faintly remember taking a "crotch" shot with a couple Power Rangers who also had the bulge thing going.
...Time Travel...
Me and Eric are now in Roppongi. The guy in the Ferrari wouldn't let me drive, even though I said it was the Bat Mobile.
...Time Travel...
Some Persian chick molested my package in the Lawsons store when I was buying a beer.
...Time Travel...
Some club called Grace. I thought we were going to Ageha! Dammit, Ageha was free for people in costumes. Oh well, I got a discount at least going in. We went to the techno floor. I had to time travel out of there ASAP, it was whack!
...Time Travel...
The hip hop floor, this is more like it! Decent mix of music. Lots of hype from the MC, in a good way. I got handed a lot of free drinks from people I didn't know. Someone gave me champagne. It's easy to dance to hip hop with a glass of champagne in your hand.
...Time Travel...
I got DQed from the "Biggest Pimp" contest for some reason. Fuck that!
...Time Travel...
Somehow I ended up in the building office. There were bottles of booze everywhere, but instead I just stole a bottle of Evian.
...Time Travel...
I was talking tattoos with a bunch of Yakuza looking people near the bathroom. They were very nice.
...Time Travel...
Made it to my train fine, but slept about 6 stops passed. Wow, now THAT is the boonies. Rice patties and shacks. Made it home around 7am. Slept 6 hours. Zero hangover! Maybe someone handed me some wierd sake made with onsen water or something.
Sunday was spent in Harajuku and seeing friends a little bit. Just a chill day. Monday spent loafing around the apartment. My next month is almost totally planned out. Hiking weekend, then a training weekend, then a weekend at Fuji Q amusement park, then a weekend in Kyoto.
6 months ago all I did was sit around and play World of Warcraft. I have very few stories from then. Now I have some sort of random adventure almost every week. My job is simple and enjoyable, I'm saving money for the future, and I meet happy people all the time. I would whole heartedly recommend teaching in foreign country to anyone who has an interest.